Search Engine Optimization!!!
This is what, I really guess, is a full form of SEO.
But there is a lot more to know. So, in this blog, I have curated the beginner knowledge of SEO that will help you to get into it.
Let's start with the basics!
What is SEO?
You know the full form of SEO right! But how does it work? In simple words, SEO is the organic way to increase your website visibility in the search results of major search engines.
As a result, the company's website receives greater traffic, increasing the possibility that more visitors will convert into customers and dollars.
3 SEO Core Components to Get Visibility
You have to ensure all the factors and algorithms of Google is perfect that help you to rank your website. There are 3 most important factors of SEO that need to be successful!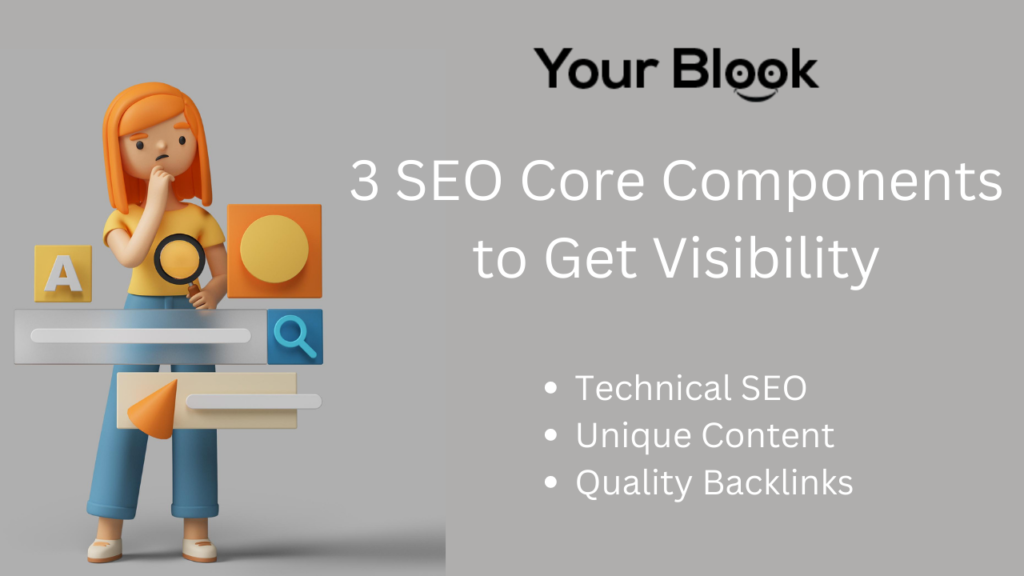 Technical SEO
It includes all the technical details you must address (often referred to as technical or on-page SEO). There wouldn't be anything to contain the soup if there wasn't a suitable bowl.
Unique Content
The most crucial component of your website is the content. Simply put, low-quality material will not rank well.
Quality Backlinks
It stands for the backlinks that increase your website's authority. Even with excellent content and a flawlessly optimized website, you must finally establish authority by obtaining high-quality backlinks.
These 3 core SEO components are crucial to achieving greater visibility.
SEO Other Areas to Perform Best
In fact, SEO should incorporate various forms of digital marketing, such as:
Content marketing
Public Affairs
Branding
Conversion rate optimization
Web development and coding
Content strategy
User experience
Lots more
Useful Aspects of Search Engine Optimization
When you are ready to start Search Engine Optimization of your website, you will get to know some common terms. These terms are important from the SEO practical point of view!
Know the meaning of these terms:
On-Page SEO & Off-Page SEO
Black Hat SEO & White Hat SEO
Knowing the meaning of the above terms will be good for you!
On-Page & Off-Page Search Engine Optimization
The terms "off-page" and "on-page" are based on whether you carry out the SEO efforts on the website, SEO classifies the actions.
Everything you can do on a website, from content optimization to technological facets, falls under the category of on-page SEO.
Keyword research
Content optimization
Title tag optimization
Page performance optimization
Internal linking
The objective is to create flawless content and user experience while communicating to search engines the topic of the page.
Obtaining high-quality backlinks is the main goal of off-page SEO in order to convince search engines that your website is trustworthy and valuable. Link building strategies could include:
Guest blogging
Email outreach
Broken link building
Off-page SEO is strongly related to other aspects of online marketing, such as branding and social media marketing, which indirectly contribute to the development of your website's authority and trust.
BEST TIP: Consider on-page and off-page SEO to become your SEO strategy successful.
Black Hat & White Hat Search Engine Optimization
Black hat SEO is a series of unethical (and frequently spammy) techniques used to raise a website's rankings.
These methods can boost your website to the top of search results quickly, but sooner or later, search engines will most likely penalize and blacklist the website.
White Hat SEO refers to all normal SEO methods that follow the regulations. It is a long-term strategy in which effective optimization, high-quality content, and a user-centered mindset produce strong rankings as a by-product.
While "white hat" tactics are preferred, SEO professionals disagree on whether specific link-building strategies are acceptable (including link buying).
Know More About Multi-Niche Blogging!
Conclusion
I hope this informational blog will be helpful to you!
Before starting Search Engine Optimization of your website, always keep yourself updated with the basic knowledge. This will help you determine whether you are on the right track. Besides these are just a few key terms and concepts, there are a lot more!
If you want to ask anything, feel free to leave your query or question in the comment box!