Digital Marketing? We all are well-versed with this word!
Nowadays, every business is adapting digital marketing to expand their business. An innovative approach becomes the most effective way to sell your products and services. You can reach your target audience where they are spending time!
All sizes of businesses are using digital platforms that aid you in reaching a wide audience, growing their business, and driving huge sales. Basically, digital marketing encompasses various disciplines, from social media marketing to search engine optimization (SEO).
But don't know how digital marketing helps the brand drive sales? If nodding no, continue reading!
Meaning of Digital Marketing
Digital marketing is the process of promoting your brand products or services via online platforms. As we know, today, customers are online means searching online, on social media, and staying updated on news sites and blogs.
So digital marketing provides you with two types of marketing online: paid or organic. This marketing will help you to put your best prospects about your services and products.
But What is Paid or Organic Marketing?
In simple words, paid marketing is the practice of digital advertising such as pay-per-click (PPC). PPC ads are run on different channels like Google, Facebook, and YouTube.
On the other hand, organic marketing is the process of growing your business online without spending a penny on ads. It includes content marketing, and search engine marketing (SEO) that help you to rank your business and build an audience online.
Once you have decided to start digital marketing for your business, you should also know about the types of digital marketing!
Types of Digital Marketing
There are a number of digital marketing tactics that help you to grow your business. Each tactic has its own potential that enhances your business digitally.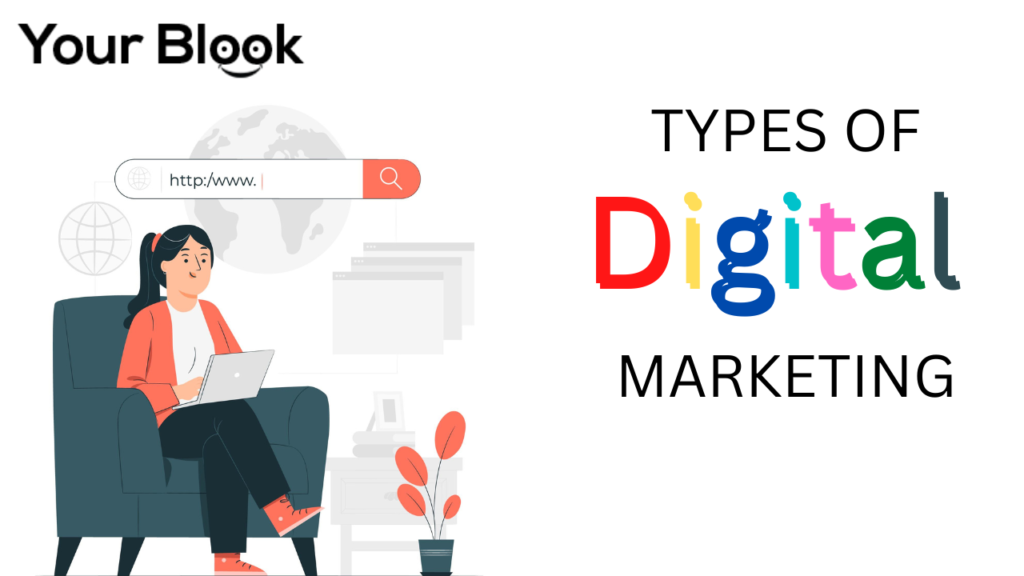 I have curated some crucial types that you must know!
Search Engine Optimization (SEO)
SEO is one of the most popular terms of digital marketing. This marketing is organic, achieving the desired result in an organic way. SEO works to boost the ranking of your website on the search engine. So your potential customers can easily find your website!
Know Common Strategies of SEO:
Find relevant keywords for your website.
Write unique content with proper keyword implementation.
Use meta description and title.
Use relevant images with proper descriptions.
Use these strategies to take your site to the first page of a search engine!
Social Media Marketing
Social media marketing helps you to reach your target audience. You can promote your brand services and products on different social media channels.
Going social does not mean you have to be active on Facebook and Twitter. But it simply means you have to present where your audience mostly hangs out!
You can easily engage with the users and build a relationship that will be a plus point for your business expansion.
Know Common Strategies of Social Media Marketing:
Find a suitable social media platform for your brand.
Create an account with proper information.
Start posting.
Enhance your online presence and build a relationship.
Use these strategies to build your effective social media presence!
Content Marketing
Without content, everything is incomplete. Content marketing is the practice of creating unique and high-quality content that will appeal to your target audience. This can be easily done through blogs, articles, websites, or social media channels.
This will help you to provide relevant information about your services and products to your customers. As a result, customers gain more trust in your brand and reach more audience.
Know Common Strategies of Content Marketing:
Find the relevant topics related to your brand.
Create an effective strategy for your content.
Implement relevant keywords in your content.
Optimize your content.
Use these strategies to build effective content!
Email Marketing
Email is an effective way to reach a wide audience. It is the practice of promoting your products and services through an effective email campaign. You can tailor your message in email and send it to a specific audience at a specific time.
With this marketing, you can share valuable information with your audience. It includes an exclusive offer of products and services, updated information via news etc.
Some Common Strategies of Email Marketing:
Place an email sign-up form on your website.
Ask your users to sign up to receive updated information via email.
Build your email list.
Send all your emails.
Use these strategies to achieve your desired results!
Know More About Search Engine Optimization!
Conclusion
You should know these most important digital marketing types before starting!
If you want to ask anything, feel free to leave your query or question in the comment box!