Every marketer and SEO expert knows the importance of brand awareness. At present, the digital marketplace has become highly competitive. To make a name for your brand online, it is crucial to have an online presence. An effective strategy is one of the best ways to do that. To name one, Guest posting is one of the popular methods in making band awareness.
The process of guest posting includes publishing posts on different sites. The posts are published only to drive more traffic for your brand. Let us take deep dive into understanding how guest posting can enhance your brand awareness.
What Is Guest Posting?
Guest blogging or posting refers to making and curating content for other websites. It is done with the main aim of exchanging links for your website. To create a bond or get more visibility for your brand, guest posting is the best solution. It also helps in getting more organic traffic.
Having more visibility also creates more opportunities to increase SERPs rankings. Guest posting for other sites attracts and makes viewers aware of your brand or blog with techniques like link-building. It's a great way to engage with others for discussion related to your niche. Let us discuss some of the ways how to leverage guest posting to enhance brand awareness.
Ways to Leverage Guest Posts to Enhance Brand Awareness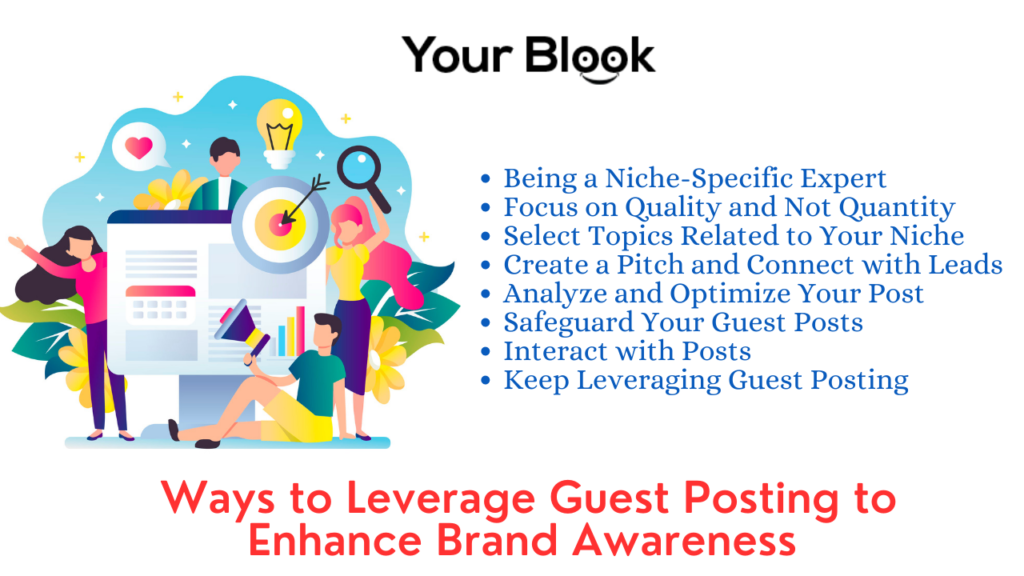 Being a Niche-Specific Expert
To enhance your brand's visibility through guest posting, it's essential to write about a subject matter you're familiar with. It's crucial to stay within your niche and avoid writing about unrelated topics as it may cause confusion. Focusing on topics relevant to your brand can help you build brand awareness effectively. Remember your main goal and write posts to establish yourself as an expert.
Focus on Quality and Not Quantity
To build credibility in your industry, connect with respected bloggers and aim to guest post on reputable websites with a high domain rating (40+) and low spam score. Have a rundown of a few guest posting websites with high DR and only stick to writing high-quality guest posts.
Select Topics Related to Your Niche
Utilizing keywords to search topics that viewers are searching for will assist in showcasing your SEO strategy and marketing plan. Focusing on the website pitch to evaluate the content and add value is essential for brand awareness. Quality-driven guest blogs are those that fill existing holes in data and serve the requirements of readers.
Create a Pitch and Connect with Leads
Once you recognize the niches in which you want to write guest posts. The next step is composing a solid pitch and connecting with potential leads. Reaching leads is more than just sending one email and sitting idle waiting for a response. Organizations and firms receive countless pitches in a day. It's important to realize that you write a creative and compelling pitch that stands out from others.
Analyze and Optimize Your Post
Write a blog post that will engage and attract your audience. Optimize it for search engines by using relevant keywords throughout the post, including in the meta tags, adding visuals, and creating a clear title. Include information about yourself that is relevant to your blog. Keep track of the metrics for your posts, analyze your writing, and continue to improve for future posts.
Safeguard Your Guest Posts
Recall that even though you have contributed to the guest post, you don't claim that resource. Distributions can create or change their content marketing strategies instantly. In the first place, consistently keep a duplicate copy of your guest's posts somewhere. Always check whether your content is scraped or utilized on other sites. The second tip is to focus and put more effort into content published on your platforms.
Interact with Posts
Develop more engagement on your published articles by responding to remarks on the post itself and via social media apps. Like reviews, follow your social media posts, and draw in with all comments to generate buzz. Even though that post is being utilized on someone else's site, your brand gets much acknowledgment.
Keep Leveraging Guest Post
Regularly improving your guest posting strategy can be beneficial in many ways. It can help you publish more guest posts and increase awareness about your brand. You can attract more traffic to your brand by implementing a consistent guest posting marketing strategy.
Closure
Utilizing the techniques outlined, guest posting can be a powerful tool for boosting your brand's recognition. If you're starting out with guest posting and seeking to enhance your brand's visibility, follow the guide and witness the favorable outcomes it can generate for your brand. Guest posting brings value to your branding and link-building strategies, depending on your willingness to put effort into it.